Return to Events
Tales of Tradition Interrupted
September 18 2022 4:00pm - 5:30pm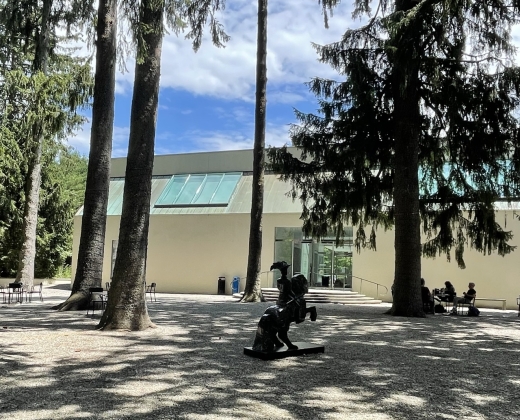 Back by popular demand! Discover the power of personal stories, as storytellers share their own experiences on the theme of "tradition interrupted" in the Sculpture Garden.
Storytellers:
Valentina Ortiz is a multilingual storyteller, musician, writer, and humanitarian. Her stories are full of hope and offer a window into the daily life of the people of Latin America. She moves comfortably from myth to personal stories, from Mexican folktale to her voice about migration. Ortiz has been a teacher of music and storytelling for all ages for over 20 years and since 2007 is the Founder and Director of nonprofit association Zazanilli Cuentos, focusing on projects that pursue healing of social issues through storytelling and art.

Fury Young is a multidisciplinary artist from Manhattan's Lower East Side. From a young age, Young was surrounded by film, music, and poetry, and was inspired by his grandfather who was a defense attorney, and his father who was a community activist and artist. In 2013, Young set out to create the United States' first concept album about the Black American experience in an age of mass incarceration. Since the Die Jim Crow EP was released in 2014, Die Jim Crow Records has gained access to five prisons and recorded full bands, choirs, and solo musicians, totaling over 60 incarcerated artists and over a dozen formerly incarcerated artists.

Srilatha Rajamani is a New York-based queer storyteller and comedian. Her stories are about her life and its absurdities and joys of being an Indian immigrant woman living in the United States. Rajamani has been a featured storyteller for WGBH TV's Stories from the Stage in Boston, KPFK's Stonewall Stories of Pride in Los Angeles, and has opened for W Kamau Bell, Myq Kaplan, and Judah Friedlander.

Angela Derecas Taylor is a second generation American of Italian and Greek descent. She hails from the 1960's Greenwich Village in New York City, where she was raised in a family of restauranteurs, which she followed with a 20-year career in hospitality and the restaurant business; eventually segueing into a mid-life career change in community service, local government, and as a Yoga instructor. In 2020, Taylor was invited to The Moth MAIN-STAGE to tell her story "Finding YiaYia: A Greek Tragedy." She's a member of the For the Love of Words storytellers, and the Under the Bridge writer's group, and is the recipient of a Gurfein Fellowship Honorable Mention from the Sarah Lawrence College Writing Institute.
Members $20. Non-members $25. Free for children 12 and under.
Not a member? Join now to enjoy member perks!
These events will be held in the Katonah Museum of Art's Marilyn M. Simpson Sculpture Garden. In case of bad weather, the event will be moved to the Museum's atrium. COVID guidelines are in place in the Museum's galleries. Masks are recommended indoors for everyone over age 2, regardless of vaccination status.
Book Tickets