Plan Your Visit
In order to ensure all visitors to the Katonah Museum of Art have a positive and educational experience, we ask that each guest observe these protocols to protect everyone. Visitors who do not adhere to safety policies and guidelines may be asked to leave.

Advance timed tickets recommended. By reserving your timed ticket, you agree to play your part in keeping the Museum safe for both visitors and staff.

Reserve tickets
The Katonah Museum of Art is pleased to welcome its members and the public to its galleries and grounds. The KMA is committed to keeping you healthy and safe. To help prepare for your visit, please review the policies and other useful information below to help ensure your safety, the quality of your visit, and the security of the art on display.
Admission and Hours
Advance tickets are recommended.
Select the date you will be visiting the Museum and arrive any time up to 30 minutes before closing.
Please present your confirmation email either printed or on your phone at the Guest Services Desk.
Katonah Museum of Art members are suggested to reserve tickets at no charge. Please note: KMA Members will be asked to show their membership card for verification upon arrival.
All transactions are by credit or debit card, no cash is accepted.
Complimentary admission passes will be honored, but advance timed reservations are recommended, and pass must be presented upon entry to the Museum.
Docent Tours are offered Tuesday-Sunday at 2:30 PM. Tours are free for members and free for non-members with the price of Museum admission.
Hours of Operation

Tuesday – Saturday: 10:00 AM – 5:00 PM
Sunday: 12:00 PM – 5:00 PM
Monday: Closed
Last admission to the Museum is 30 minutes before closing.

Visitors are required to adhere to the Visitor Code of Conduct and to follow the Museum's Visitor Etiquette.
Please include name, email address and phone number at check out.
Upon checking out, please make sure to leave your browser open until you receive a confirmation that your order has been processed. If you do not receive this message or a confirmation e-mail, your order has not been processed. Please contact membership@katonahmuseum.org or call 941-767-2979.
Our members and frequent visitors to the Katonah Museum of Art will be familiar with the following rules, designed to make your visit enjoyable and to protect the artwork, as well as our guests. Please help us by following these guidelines.
Please keep a distance of at least three feet from the artworks. Do not touch any artwork at any time
For the current exhibition, informal photography for your personal use is permitted in the galleries. Flash is not permitted.
Please silence your phone and, if you must take a call, exit the gallery and do so in the Sculpture Garden.
Food, drink, chewing gum and tobacco products are not allowed in the galleries.
Please leave large bags or backpacks in your car, as we cannot accommodate them in the galleries at this time.
Do not carry children on shoulders.
Strollers are allowed in the galleries, but they must be pushed by adults at all times.
We ask that children younger than 12 be supervised by an adult at all times.
By reserving your timed ticket, you agree to adhere to the Visitor Code of Conduct and to play your part in keeping the Museum safe for both visitors and staff.
Health and Safety
If you are not feeling well or have been in close proximity to someone with COVID-19, please do not come to the Museum. (If you become ill after purchasing a ticket, please contact the Museum to reschedule your visit.)
The contact information you provided when purchasing your ticket will be used if we need to notify you of any COVID-19 exposure. Likewise, should you become ill with COVID-19 following your visit, please notify the Museum as soon as possible.
Liability
By reserving tickets, you confirm that you are aware that visiting the Katonah Museum of Art includes risks arising from possible exposure to communicable diseases, including COVID-19. You knowingly and voluntarily accept this risk and assume full responsibility for any injury, illness, or other loss that you may sustain as a result.
| | |
| --- | --- |
| Monday | Closed |
| Tuesday | 10am–5pm |
| Wednesday | 10am–5pm |
| Thursday | 10am–5pm |
| Friday | 10am–5pm |
| Saturday | 10am–5pm |
| Sunday | 12pm–5pm |

Closed on the following holidays: New Year's Day, Martin Luther King Jr. Day, President's Day, Memorial Day, Juneteenth, Independence Day, Labor Day, Indigenous Peoples Day, Thanksgiving Day, Day after Thanksgiving (Galleries Open/Offices Closed), Christmas Day
Address
134 Jay Street - Route 22
Katonah, New York 10536
(914) 232-9555
By Car: Take Exit 6 off Interstate 684. Turn onto Route 35 east. At first light turn right onto Route 22 south. The Museum is located 1/4 mile on the left.
By Train: From Grand Central Terminal (Harlem Division of Metro North), the Museum is located 0.7 miles east of the Katonah train station. From the train station, it is a 20-minute walk. Taxi service is also available. For daily train schedules, visit MTA. For more details on the Metro-North Getaway package, click here.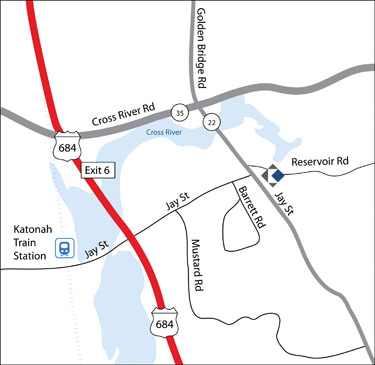 | | |
| --- | --- |
| ADULTS | $12 |
| SENIORS | $6 |
| STUDENTS | $6 |
| MEMBERS | FREE |
| CHILDREN (UNDER 12) | FREE |

Free Admission
Members: Members enjoy unlimited free admission to the KMA, subject to capacity restrictions, but should reserve member timed tickets online. Apply the full price of your admission ticket toward a new KMA membership. Not a member? Join today. There are discounted membership categories for artists, students, and more.
Children: Children 12 and under are always free at the KMA. Advance timed tickets must be reserved online. Free admission does not apply to children in groups or to special events.
Third Thursdays: Explore the current exhibitions for free on the third Thursday of every month. Free admission applies to all visitors during regular Museum hours.
Group tours: contact education@katonahmuseum.org or 914-232-9555, x2985 for scheduling and pricing.
The KMA offers the following discount admission programs:
Discount for Disabled Individuals: Discounted general admission ($6) for visitors who identify as disabled and one guest during normal Museum hours.
Museums for All: Through Museums for All, those receiving food assistance (SNAP benefits) can gain free or reduced admission to the KMA simply by presenting their EBT card and photo ID.
#ThirdThursdays: Free general admission on the third Thursday of every month.
Jacob Burns Film Center Members: $1 off general admission.
WNET Thirteen Members: $1 off general admission.
Museum Day: Museum Day is an annual celebration hosted by Smithsonian magazine. It is a one-day event in which participating museums and cultural institutions across the country provide free entry to anyone presenting a Museum Day ticket. Participants are allowed to download one ticket per email address. The ticket provides free general admission on Museum Day for two people.
MTA Away

The experience: With its critically acclaimed exhibitions and peaceful Sculpture Garden, the Museum is an unexpected, modernist gem that energizes the scenic hamlet of Katonah with exhibitions that spark imagination and untapped creativity across generations. It's intimate scale is deal for focused exhibitions that explore ideas about art, culture and society that will get you talking without tiring you out. A seasonal array of public programs, concerts and an outdoor sculpture garden is complimented by a popular Learning Center with hands-on art activities for children.
The Deal: Discount round-trip rail ticket to the Katonah Station which includes discounted admission to the Museum [Adults: $6 (regular price $12); Seniors/Students: $3 (regular price $6); Members: Free; Children (under 12): Free].
MTA Away/KMA Package Price (from GCT/Harlem-125th Street):

Adults: $28 ($22 r/t rail + $6 admission)
Seniors, persons with disabilities, and individuals receiving Medicare: $20.50 ($17.50 r/t rail + $3 admission)
Children 5-11: $2 (r/t rail + $0 admission)
Children under 5: Free

Getting There: Take the Harlem Line to Katonah Station. Take a 20-minute walk or short taxi or Uber ride to the Museum.
Tickets: Purchase your rail/admission ticket from any Metro-North ticket office or full-service ticket vending machine (excluding Katonah Station).
the mta deal

For more details on the Metro-North Getaway package, click here.
Fairfield Westchester Museum Alliance (FWMA): Established in 2009 to help promote the rich and diverse offerings of cultural institutions, the Fairfield/Westchester Museum Alliance (FWMA) benefits arts enthusiasts throughout the region. All KMA members enjoy free admission and discounts at participating FWMA museums. In addition to free admission, KMA Members also receive a 10% gift shop discount at the various institutions. We invite you to become a KMA Member today and take advantage of this valuable benefit. Simply present your KMA membership card to receive free admission and store discounts.

FWMA members:


The Aldrich Contemporary Art Museum | Ridgefield, CT
Bruce Museum | Greenwich, CT
The Barnum Museum | Bridgeport, CT
Hudson River Museum | Yonkers, NY
Hudson Valley MOCA | Peekskill, NY
MoCA (Museum of Contemporary Art) Westport | Westport, CT
Neuberger Museum of Art | Purchase, NY
Wave Hill | Bronx, NY
North American Reciprocal Museum Association (NARM): Upper-level members are entitled to symbiotic arts enjoyment at over 1,000 museums through the North American Reciprocal Museum Association (NARM). Give the gift of membership and share your love of art with friends and family. Visit katonahmuseum.org or call 914-767-2979 to join today.
American Alliance of Museums (AAM) Members: Reciprocal Membership. Free Admission for general admission. Member discount on KMA merchandise and public programming.
Many public libraries now offer their patrons free or reduced admissions to local cultural centers such as museums. The cultural institutions, such as the KMA, sell or donate admission passes to libraries, and the libraries loan the passes out to the public.
The Katonah Museum of Art values its library partners and their patrons. We believe our partnerships help to serve the community and increase the accessibility of the arts.
Program details:
Library passes are redeemed at the Front Desk.
Free admission for 2 adults and all children under 12.
Access to Stroller Tours, Family Days, Artful After School & The Learning Center.
These passes allow free access to 7 other museums (Aldrich Contemporary Art Museum, The Barnum Museum, Bruce Museum, Hudson River Museum, Hudson Valley MOCA, Neuberger Museum of Art, Wave Hill)
Due to capacity restrictions, advance reservations are required. The library's Museum pass must also be presented upon admission.
Limit 1 pass per family.
Library Passes may not be used to attend the Museum's special events.